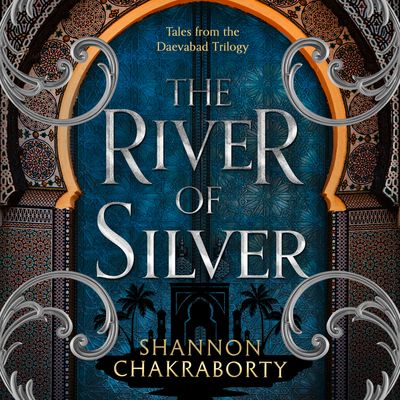 The Daevabad Trilogy - The River of Silver: Tales from the Daevabad Trilogy
(The Daevabad Trilogy, Book 4)

: Unabridged edition

By Shannon Chakraborty, Read by Soneela Nankani
A special audio-first story collection
Bestselling author Shannon Chakraborty expands the acclaimed, Hugo-nominated Daevabad Trilogy with this magical compilation of stories from before, during, and after the events of the series.
Told from the perspective of characters beloved and hated, and even those never heard from until now, these tales of Daevabad enrich a world already teeming with magic and wonder.
Explore a kingdom hidden from human eyes. A place where djinn live and thrive, fight and love. A realm where princes question their rule, and powerful demons can help you…or destroy you.
From Manizheh's first steps towards rebellion to adventures that take place after The Empire of Gold, this is a must-have collection for those who can't get enough of Nahri, Ali, and Dara and all that unfolded around them.
PRAISE FOR THE DAEVABAD SERIES -
'THE CITY OF BRASS is the best adult fantasy I've read since THE NAME OF THE WIND. It's stunning and complex and consuming and fantastic. You must read it'Sabaa Tahir, #1 New York Times bestselling author of AN EMBER IN THE ASHES -
'An extravagant feast of a book - spicy and bloody, dizzyingly magical, and still, somehow, utterly believable'Laini Taylor, New York Times bestselling author of STRANGE THE DREAMER -
'Even a few pages will enmesh you in its magic'Robin Hobb, New York Times bestselling author -
'I raced to the end of City of Brass and can't wait to see what happens next. I'm eager for more adventures in Daevabad'Peter V. Brett, bestselling author of The Demon Cycle -
'Blends legend and history to create a fascinating world…thoroughly enjoyable'SFX -