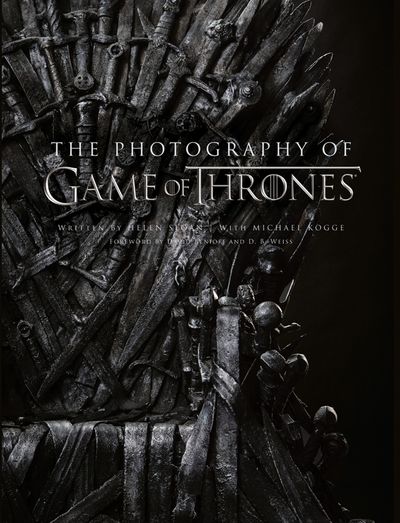 The Photography of Game of Thrones: The official photo book of Season 1 to Season 8
By Helen Sloan, With Michael Kogge, Foreword by David Benioff and D. B. Weiss
Enter the world of HBO's global television phenomenon Game of Thrones with The Photography of Game of Thrones – the definitive photographic collection from the set of the hit series.
Witness how official unit stills photographer and Nikon ambassador Helen Sloan and the unit photography team selected 850 incredible images from the production of HBO's legendary series Game of Thrones, including candid, never-before-seen images of cast and crew. Enjoy exclusive access and images directly from the set as George R.R. Martin's world of Westeros was translated to the TV screen.
One of 4 comprehensive and officially licensed Game of Thrones retrospective books from HarperVoyager.
• UNPRECEDENTED ACCESS – 416 pages of images, details, and anecdotes covering Game of Thrones seasons 1-8.
• EXCLUSIVE IMAGES – Curated from an archive of 1.5 million photos. Enjoy over 850 hand-selected images direct from the set.
• UNSEEN MOMENTS – View legendary characters such as Tyrion, Daenerys, Cersei, Jaime, Brienne, and Jon Snow uniquely captured through Helen Sloan's lens.
• HEAR FROM THE SHOW'S CREATORS – Features an exclusive foreword from Game of Thrones showrunners David Benioff and D. B. Weiss.
• A PRESTIGE COFFEE TABLE BOOK – Deluxe 9.75 × 13 inch format.
• A HIGHLY DESIRABLE GIFT FOR FANS – Released in time for the holiday season, this is the perfect gift for Game of Thrones fans.
'A wonderful look into not just the characters, but the sheer artistry behind creating a series as epic as this one'Screen Rant -
'Everything about these books is, as you can probably guess, gorgeous'Winter is Coming -
"'Game of Thrones" - singular attention to detail is painstakingly and lavishly chronicled in this trio of stunning coffee-table books from Insight Editions covering all eight seasons and focusing on, respectively, the museum-quality production art and designs from sketch to screen; still photos capturing the show's most iconic and cinematic scenes along with intimate never-seen off-screen moments; and an in-depth look at the creation of the epic costumes across Westeros, from the sun-drenched denizens of Dorne to the Wildlings beyond the Wall'Yahoo