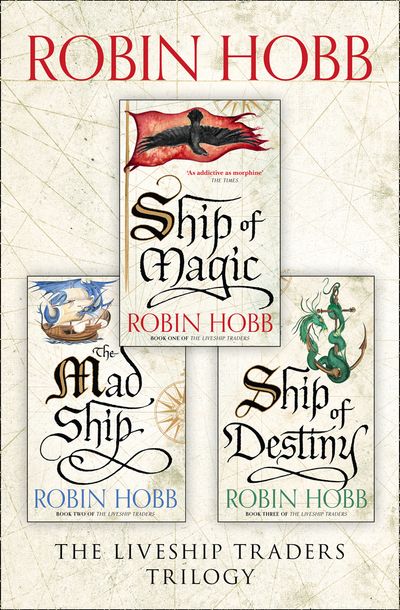 The Complete Liveship Traders Trilogy: Ship of Magic, The Mad Ship, Ship of Destiny
By Robin Hobb
'Fantasy as it ought to be written' George R.R. Martin
The Liveship Traders trilogy returns readers to Robin Hobb's most loved world.
The perilous waters of the Rain River Wilds can only be negotiated by sentient liveships made of Wizardwood, but such a ship is difficult to come by. Rare and valuable, it will quicken only when three family members from successive generations have died on board.
The liveship Vivacia is about to undergo her quickening as Althea Vestrit's dying father is carried on to her deck. Althea waits with both sadness and awe for the ship that she loves more than anything in the world to awaken, only to find that her family have other plans for them both…
Liveship Traders Trilogy by international betselling author Robin Hobb.
'Hobb is one of the great modern fantasy writers… what makes her novels as addictive as morphine is not just their imaginative brilliance but the way her characters are compromised and manipulated by politics.'The Times -
'Robin Hobb writes achingly well'SFX -
Praise for The Liveship Traders series:'Even better than the Assassin books. I didn't think that was possible'George R R Martin -
'Hobb is a remarkable storyteller.'Guardian -