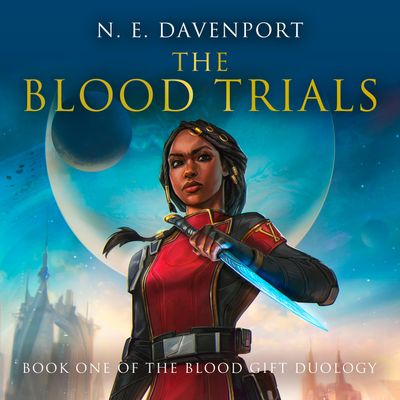 The Blood Gift Duology - The Blood Trials
(The Blood Gift Duology, Book 1)

: Unabridged edition

By N. E. Davenport, Read by Jeanette Illidge
Blending fantasy and science fiction, N.E. Davenport's fast-paced, action-packed debut kicks off a duology on loyalty and rebellion, in which a young Black woman must survive deadly trials in a racist and misogynistic society to become an elite warrior.
Perfect for fans of RED RISING and AURORA RISING
It's all about blood.
Blood spilled long ago between the Republic of Mareen and the armies of the Blood Emperor, ending all blood magic.
Now there is peace in the Republic – but there is also a strict class system, misogyny, and racism. Her world is not perfect, but Ikenna survived in it. Until now.
With the murder of her grandfather, Ikenna spirals out of control. Though she is an initiate for the Republic's deadly elite military force, Ikenna has a secret only her grandfather knew: she possesses the blood magic of the Republic's enemies.
Ikenna throws herself into the gladiatorial war games at the heart of her martial world: trials that will lead her closer to his killers. Under the spotlight, she subjects herself to abuse from a society that does not value her, that cherishes lineage over talent – all while hiding gifts that, if revealed, would lead to execution or worse. Ikenna is willing to risk it all to find out who killed her grandfather…
So she can end them.
Magic, technology, and rebellion meet in this stunning debut – part one of a duology that sees a young Black woman rise through misogyny and racism to become an elite warrior.
"'If you want to be on the edge of your seat, find another book, because this one hands you a blade, shoves you right into the action, and demands you start running if you want to keep up. It is action, mystery, and heartfelt character-all balanced perfectly on the tip of a knife.'- Scott Reintgen, Indie Bestselling author of the Nyxia series 'The Blood Trials is one of my top reads of the year-a riveting story with richly-drawn characters caught in a tangle of political intrigue, systemic racism, and nonstop peril. Don't miss this one!'- New York Times bestselling author Melissa Marr 'With a high-octane sci-fi setting, a twisty murder mystery, and a badass heroine, THE BLOOD TRIALS is a damn good time." - Hannah Whitten, New York Times bestselling author of For the Wolf 'An action packed adventure paired with luscious world building makes The Blood Trials an enthralling, unputdownable read. Davenport is a force to be reckoned with.'- Bestselling author of Cinderella Is Dead, Kalynn Bayron
"'The Blood Trials is a fresh, intense gut punch of a book that has everything I love most in sci-fi and fantasy. I rooted for Ikenna, the trials gripped me, and the political mystery at the heart of it all kept me constantly on my toes." - Susan Dennard, New York Times Bestselling author of the Witchlands series