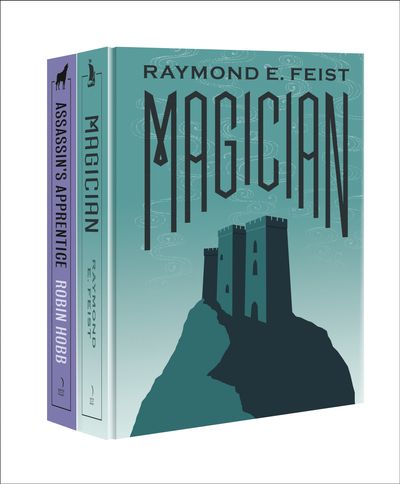 Robin Hobb and Raymond E. Feist Fantasy Classics Special Edition 2-book Set: includes Magician and Assassin's Apprentice
By Raymond E. Feist and Robin Hobb
A gorgeous hardback clothbound set of two of epic fantasy's most enduring classics: Robin Hobb's Assassin's Apprentice and Raymond E. Feist's Magician.
The perfect gift for any fantasy fan: two of the most beloved classics of the genre, together for the first time.
ASSASSIN'S APPRENTICE: the first book in the critically-acclaimed Farseer trilogy.
In a faraway land where members of the royal family are named for the virtues they embody, one young boy will become a walking enigma.
MAGICIAN: the first book in the bestselling Riftwar Cycle series.
At Crydee, a frontier outpost in the tranquil Kingdom of the Isles, an orphan boy, Pug, is apprenticed to a master Magician – and the destinies of two worlds are changed forever.
Praise for ASSASSIN'S APPRENTICE: -
"'Hobb is one of the great modern fantasy writers … what makes her novels as addictive as morphine is not just their imaginative brilliance but the way her characters are compromised and manipulated by politics" - THE TIMES
"'In today's crowded fantasy market Robin Hobb's books are like diamonds in a sea of zircons" - GEORGE R.R. MARTIN
Praise for MAGICIAN: -
"'Totally gripping" - WASHINGTON POST
"'Epic scope…fast-moving action…vivid imagination" - WASHINGTON POST
"'Tons of intrigue and action" - PUBLISHERS WEEKLY