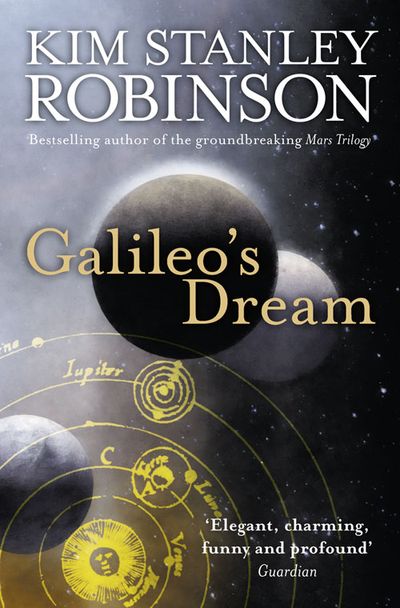 Galileo's Dream
By Kim Stanley Robinson
The dazzling novel from the acclaimed author of the groundbreaking MARS trilogy follows Galileo on an amazing journey from the dawn of the modern world to a future on the verge of a completely new scientific breakthrough.
Late Renaissance Italy abounds in alchemy and Aristotle, yet it trembles on the brink of the modern world. Galileo's new telescope encapsulates all the contradictions of this emerging reality. Then one night a stranger presents a different type of telescope for Galileo to peer through, enabling him to see the world of humans three thousand years hence.
Galileo will soon find himself straddling two worlds, the medieval and the modern. By day his life unfurls in early seventeenth century Italy; by night he is transported through dimensions of time and space no other man of his time could possibly comprehend. Inexorably, Galileo faces trial for religious crimes in his own time, while in the new world he discovers, where science assures men that they can perform wonders, but does not tell them what wonders to perform, he is revered.
This sumptuous, gloriously thought-provoking and suspenseful novel recalls Robinson's magnificent Mars books as well as bringing to us Galileo as we have always wanted to know him.
'One of the finest working novelists in any genre'GUARDIAN -
'If I had to choose one writer whose work will set the standard for science fiction in the future, it would be Kim Stanley Robinson'NEW YORK TIMES -
Praise for GALILEO'S DREAM: -
'Thought-provoking and moving in equal measure. Robinson captures the joy of scientific discovery better than anyone else working today … Elegant, charming, funny and profound'GUARDIAN -
"'A brilliant work of imagination, drawing together the 'two cultures" - in a harmonious marriage of science and art'THE TIMES
'A triumph, with Robinson's gifts for characterisation and world-building firmly to the fore. His Galileo is wonderful: brilliant, irascible, sometimes hateful, and always fascinating. The finale is both stirring and melancholic, and a fitting tribute to science's most famous iconoclast'NEW SCIENTIST -