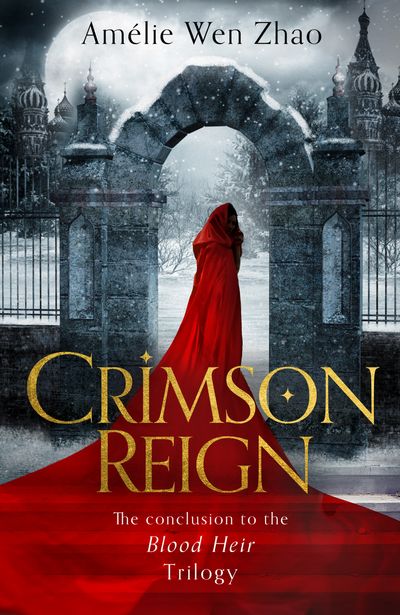 Blood Heir Trilogy - Crimson Reign
(Blood Heir Trilogy, Book 3)
By Amélie Wen Zhao
For fans of Children of Blood and Bone and Six of Crows comes the thrilling conclusion to the Blood Heir trilogy. A princess with a dark secret must ally with a con man to liberate her empire from a reign of terror in this epic fantasy reminiscent of the Anastasia story.
The Red Tigress, Ana Mikhailov, has returned to Cyrilia, but the country she once called home has fallen under a dark rule. Across the land, the Empress Morganya is tightening her grip on Affinites and non-Affinites alike.
Ana dealt a blow to the Empress when she and her allies turned back Morganya's troops, but she couldn't stop Morganya from gaining possession of a dangerous new weapon with the power to steal Affinities.
Ana's forces are scattered, and her alliance with the rebel group, the Red Cloaks, is becoming more frayed by the day. What's worse, she's lost her Affinity to blood and without it, Ana barely knows who she is anymore – or if she has the strength to defeat Morganya.
Morganya's reign of terror is close to crushing the nation Ana was born to rule. And now Ana will finally face the sinister empress, but will she survive? Will anyone? And will her Empire welcome her back to the throne, or turn her out to survive on her own.
The Affinites and Non-Affinites of Cyrilia will determine Ana's future, if Morganya doesn't kill her first.
PRAISE FOR BLOOD HEIR: -
'Zhao shines in the fast-paced and vivid combat scenes, which lend a cinematic quality that pulls readers in'NYT Book Review -
'BLOOD HEIR is cinematic storytelling at its best. A stunning new voice in YA, Amélie Wen Zhao has drawn characters who are as complex and captivating as the fantastical world she's built. Get ready for a retelling like you've never seen before'Adrienne Young, New York Times bestselling author of SKY IN THE DEEP and THE GIRL THE SEA GAVE BACK -
'Sure to keep readers turning pages…Perfect for fans of Amy Tintera or Sarah J. Maas, but readers should prepare for plenty of heartbreak'Booklist -
'[A] pointed exploration into the consequences of exploitation and the defining nature of choices'Publishers Weekly -
'Ana is not the typical damsel in distress'Kirkus -
'So rich and beautifully written, the plot is riveting, and I was utterly taken with the magic system'Mary Watson, author of The Wren Hunt -