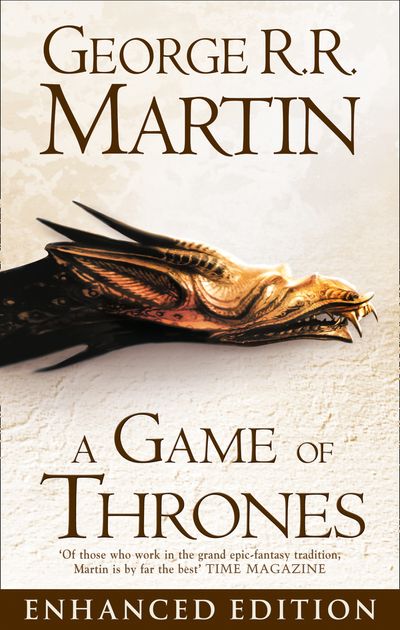 A Song of Ice and Fire - A Game of Thrones Enhanced Edition
(A Song of Ice and Fire, Book 1)

: Enhanced edition

By George R.R. Martin
A stunning enhanced edition of the hugely popular and highly acclaimed epic fantasy, featuring an interactive map tracking main characters' journeys, audio extracts of key scenes and a hyperlinked character glossary.
Now a major Sky Atlantic TV series from HBO, featuring a stellar cast.
Summers span decades. Winter can last a lifetime. And the struggle for the Iron Throne has begun.
It will stretch from the south, where heat breeds plot, lusts and intrigues; to the vast and savage eastern lands; all the way to the frozen north, where an 800-foot wall of ice protects the kingdom from the dark forces that lie beyond. Kings and queens, knights and renegades, liars, lords and honest men… all will play the Game of Thrones.
Winter is coming…
'A Game of Thrones grabs hold and won't let go. It's brilliant.'Robert Jordan -
'Such a splendid tale. I couldn't stop till I'd finished and it was dawn.'Anne McCaffrey -
'Colossal, staggering… Martin captures all the intoxicating complexity of the Wars of the Roses or Imperial Rome in his imaginary world… one of the greats of fantasy literature.'SFX -
'Fantasy literature has never shied away from grandeur, but the sheer-mind-boggling scope of this epic has sent other fantasy writers away shaking their heads… Its ambition: to construct the Twelve Caesars of fantasy fiction, with characters so venomous they could eat the Borgias.'Guardian -