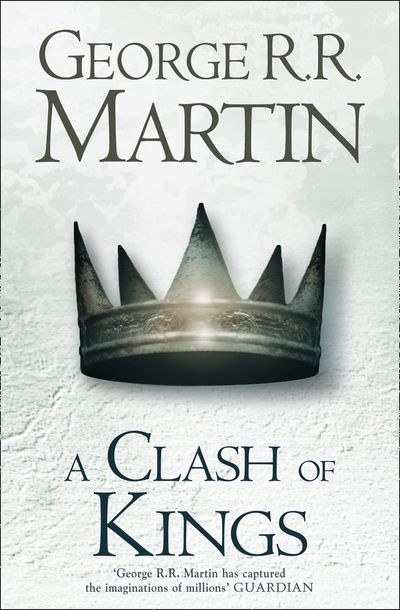 A Song of Ice and Fire - A Clash of Kings
(A Song of Ice and Fire, Book 2)
By George R.R. Martin
HBO's hit series A GAME OF THRONES is based on George R R Martin's internationally bestselling series A SONG OF ICE AND FIRE, the greatest fantasy epic of the modern age. A CLASH OF KINGS is the second volume in the series.
The Iron Throne once united the Sunset Lands, but King Robert is dead, his widow is a traitor to his memory, and his surviving brothers are set on a path of war amongst themselves. At King's Landing, the head of Lord Eddard Stark rots on a spike for all to see. His daughter Sansa is betrothed still to his killer's son Joffrey – Queen Cersei's son, though not the son of her late husband Robert. Even so, Joffrey is now a boy-king, Cersei is his regent, and war is inevitable.
In Dragonstone, Robert's brother Stannis has declared himself king, while his other brother Renly proclaims himself king at Storm's End – and Eddard Stark's fifteen year old son Robb wears the crown of the north at Winterfell.
A comet in the night sky, red and malevolent, the colour of blood and flame, can only be an omen of murder and war. Stannis's child Princess Shireen dreams of dragons waking from stone. And a white raven has brought word from the Citadel itself, foretelling summer's end. It has been the longest summer in living memory, lasting ten years, and the smallfolk say it means an even longer winter to come…
The first rule of war is never give the enemy his wish. But winter will be the biggest enemy. From beyond the Wall the undead and Others clamour for freedom, and from beyond the sea the long-dead Dragon King's daughter hatches her revenge. Robb Stark will be exceedingly lucky to reach adulthood.
'A Game of Thrones grabs hold and won't let go. It's brilliant'Robert Jordan -
'Colossal, staggering… Martin captures all the intoxicating complexity of the Wars of the Roses or Imperial Rome in his imaginary world… one of the greats of fantasy literature.'SFX -
'An extraordinarily rich novel… The book stands out from similar work by virtue of its superbly developed characters, accomplished prose and sheer bloody-mindedness.'Publishers Weekly -
'I read my eyes out. I couldn't stop until I'd finished and it was dawn.'Anne McCaffrey -
'Fantasy literature has never shied away from grandeur, but the sheer-mind-boggling scope of this epic has sent other fantasy writers away shaking their heads… Its ambition: to construct the Twelve Caesars of fantasy fiction, with characters so venomous they could eat the Borgias.'Guardian -
'One of the all-time classic fantasy series, right up there with The Belgariad and The Chronicles of Thomas Covenant, and, yes, with The Lord of the Rings.'The Alien Has Landed -