We're thrilled to announce VoyagerCon 2021, a festival of events exploring the worlds of fantasy and science fiction, taking place on 10th and 11th September 2021.
All events will be held virtually and tickets are free. If you'd like to attend both days you'll need to register for both a Friday ticket and a Saturday ticket and this will give you access to all the author events taking place that day. The first 100 people to sign up will receive a mystery proof, giving them the chance to read one of HarperVoyager's exciting new books before it has even published.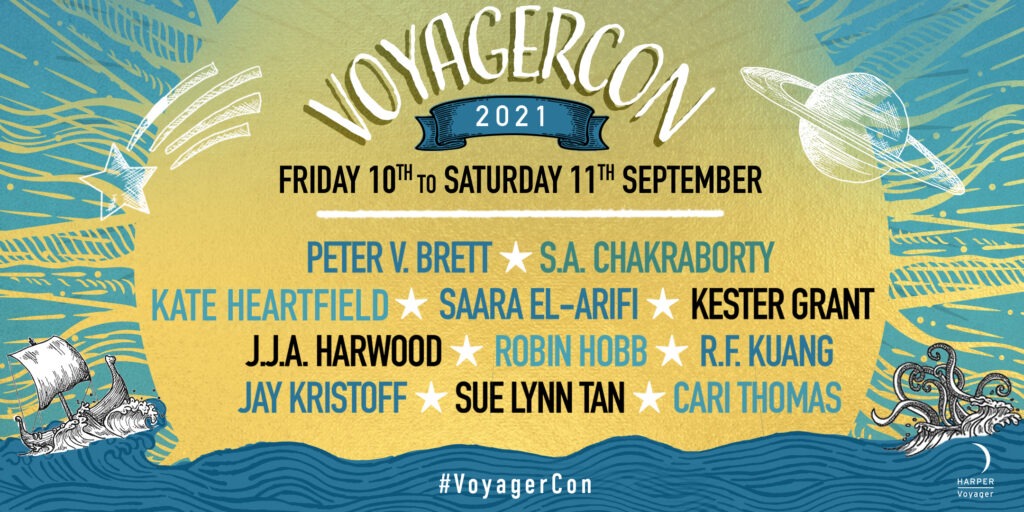 WHAT'S ON?
Friday 10th September, 7pm BST
Jay Kristoff & Peter V. Brett talk about their latest novels, The Empire of the Vampire & The Desert Prince with host, Natasha Bardon.
Saturday 11th September, 12pm BST
Making the Mundane Magical: Robin Hobb and Cari Thomas in conversation
Robin Hobb & Cari Thomas will be discussing Cari's debut novel, Threadneedle, and writing fantasy in a modern, urban setting with host, Dan Bassett.
Saturday 11th September, 2pm BST
FANTASTICAL CITIES – RF Kuang & Catriona Silvey talk with host, Saara El-Arifi, about their reimagining of real-life cities as a backdrop to their novels.
Saturday 11th September, 3pm BST
RETELLING A CLASSIC – Kester Grant, JJA Harwood & Sue Lynn Tan talk with host Kate Heartfield about transforming a story or myth into something completely new and wholly original.
Join the conversation with #VOYAGERCON @HarperVoyager
BOOK YOUR PLACE: