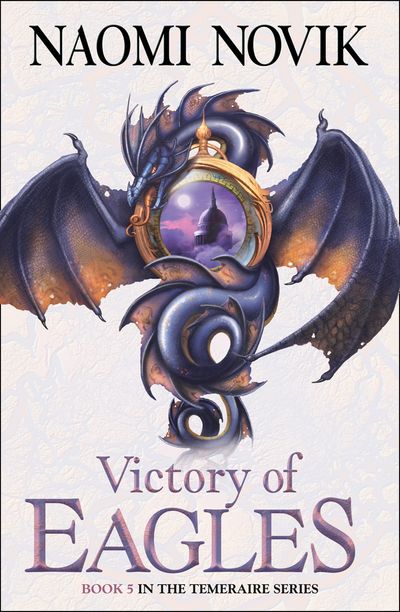 The Temeraire Series - Victory of Eagles
(The Temeraire Series, Book 5)
By Naomi Novik
The fifth instalment of the New York Times bestselling series, Temeraire. Laurence waits to be hanged as a traitor to the Crown, and Temeraire is confined to the breeding grounds as Napoleon invades Britain, and takes London.
Laurence and Temeraire have betrayed the British. They have foiled their attempts to inflict death upon the French dragons by sharing the cure they found in Africa with their enemy.
But following their conscience has a price. Laurence feels he must return to face the consequences, and as soon as they land they are taken into custody. Laurence is condemned to the gallows and Temeraire faces a life of captivity in the breeding grounds. None of their friends or allies can come to their aid, for every hand is needed elsewhere.
Britain is completely unprepared for Bonaparte invasion and the advanced tactics of his own celestial dragon – Temeraire's mortal enemy – Lien.
'These are beautifully written novels, not only fresh, original and fast-paced, but full of wonderful characters with real heart.'Peter Jackson -
'Novik won me over with her first novel… the combination of military history, sympathetic characters, and engaging style makes this series great, intelligent fun.'The Times -
'Plenty of intrigue, swordplay, exotic locations, plausible invention. In short a treat.'The Telegraph -
'In the best tradition of fantasy, historical fiction and nautical novels.'Guardian -