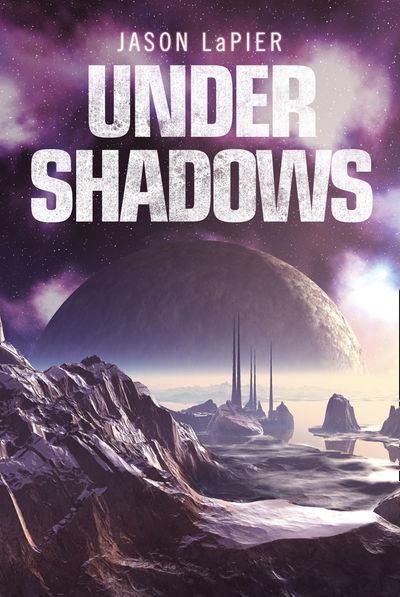 The Dome Trilogy - Under Shadows
(The Dome Trilogy, Book 3)
By Jason LaPier
The third instalment in the wondrous sci-fi Dome Trilogy by Jason LaPier.
Once a dome operator, then a fugitive, Jax Jackson is now ready to go home. But he is stopped when, from out of the shadows his greatest nightmare ambushes him, and drags him back to a deep-space lair.
Now a public relations officer for the profitable Modern Policing and Peacekeeping, Stanford Runstom still thinks like the detective he longed to be during his years of service as a law enforcement officer. Violence between space gangs and ModPol is on the rise, and if Runstom is going to find out why, he will have to defy authority and enlist the unlikeliest allies.
Skilled assassin Dava was taught to survive by Space Waste boss Moses Down, so when he's captured by ModPol, she goes on the warpath. Her trust issues are an asset when sniffing out traitors in her gang, but will she be able to control her rage and become the leader needed to stop the sabotage of an ark carrying a thousand sleeping Earthling refugees?
Praise for UNEXPECTED RAIN: -
'An unexpectedly unique, science fiction, mystery … strong character development in this solid debut … the engaging plot kept me pulled in to the very end'SciFiChick.com -
'I really enjoyed UNEXPECTED RAIN. I like the world LaPier has created and think there is a lot of potential for more stories in his universe'Invested Ivana, One Book Two (OneBookTwo.com) -
'This noble offering by a new voice pays homage in storytelling to past masters by doing what they did best: Having fun AND danger without getting bogged down by HARD SF rules. LaPier turns in a modern buddy romp in the Classic SF Vein!'Nick Cole, author of The Wasteland Saga and SODA POP SOLDIER -