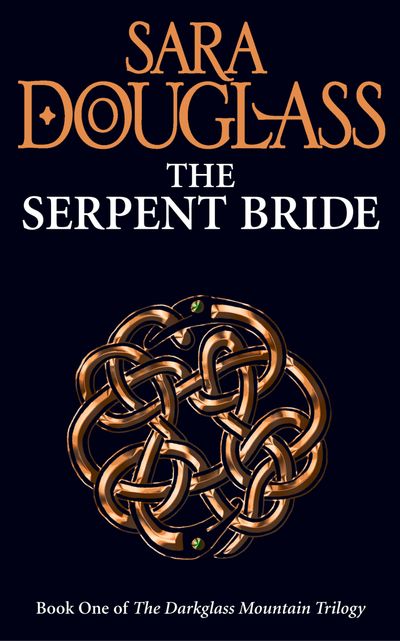 The Darkglass Mountain Trilogy - The Serpent Bride
(The Darkglass Mountain Trilogy, Book 1)
By Sara Douglass
The Serpent Bride is the first book in the Darkglass Mountain trilogy, revisiting the tempestuous magical world of Tencendor with all it's strange and wonderful inhabitants.
Tencendor is no more; the cherished home of the Acharites, Avar and Icarii crumbled beneath the Widowmaker Sea five years ago.
But the sacrifice of a continent may not save a world. The Timekeeper Demons were defeated, but a more ancient evil waits patiently for its own vengeance.
Across the empty ocean, deep in the Outlands, The Coil – worshippers of the Snake God – divine a terrible future from the eviscerated entrails of a living human sacrifice. They must offer their precious arch priestess to the King of Escator, Maximilian Persimius, or face oblivion.
In Escator, Maximilian must agree to a union with reviled Coil to or see his beloved kingdom fall into financial ruin, though the Outlands would turn against his small realm should they uncover his bride's origins.
But the King of Escator has many reasons to fear the future, for his serpent bride is not the only secret he hides…
Praise for The Axis Trilogy: -
'The twists, revelations and foreshadowings keep you turning pages'SFX -
'Absorbing. Those who like their battles bloody and realistic will get their desire, but here also are moments of great tenderness'Starburst -