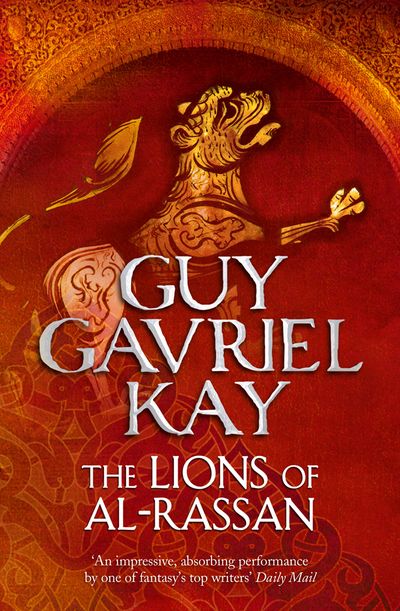 The Lions of Al-Rassan
By Guy Gavriel Kay
Hauntingly evocative of medieval Spain, a deeply compelling story of love, adventure, divided loyalties, and what happens when beliefs begin to remake – or destroy – a world.
The ruling Asharites of Al-Rassan have come from the desert sands, but over centuries, seduced by the sensuous pleasures of their new land, their stern piety has eroded. The Asharite empire has splintered into decadent city-states led by warring petty kings. King Almalik of Cartada is on the ascendancy, aided always by his friend and advisor, the notorious Ammar ibn Khairan – poet, diplomat, soldier – until a summer afternoon of savage brutality changes their relationship forever.
Meanwhile, in the north, the conquered Jaddites' most celebrated – and feared – military leader, Rodrigo Belmonte, driven into exile, leads his mercenary company south.
In the dangerous lands of Al-Rassan, these two men from different worlds meet and serve – for a time – the same master. Tangled in their interwoven fate – and divided by her feelings – is Jehane, the accomplished court physician, whose skills may not be enough to heal the coming pain as Al-Rassan is swept to the brink of holy war, and beyond.
Praise for THE LIONS OF AL-RASSAN: -
"'Impossible to put down" - Kirkus Reviews
"'Genre fans looking for more romance and strong female character development will find this an engrossing tale" - Publishers Weekly
"'A magnificent, deeply moving book" - Locus
"'Wistful and elegiac in tone, with a few clever sleight-of-hand plot twists thrown in for good measure, THE LIONS OF AL-RASSAN weaves a subtle spell.The publication of a Guy Gavriel Kay book has become something of an event in the international fantasy community. He's considered to be on of the (if not the) premiere fantasists of our time" - The Financial Post
Praise for Guy Gavriel Kay: -
"'A fine, intelligent series. Probably the best of its kind" - British Fantasy Society
"'A remarkable achievement. The essence of high fantasy" - Locus
"'Kay has delivered such a magnificent conclusion - I can't praise it enough. THE FIONAVAR TAPESTRY will be read and reread for many years to come" - Fantasy Review