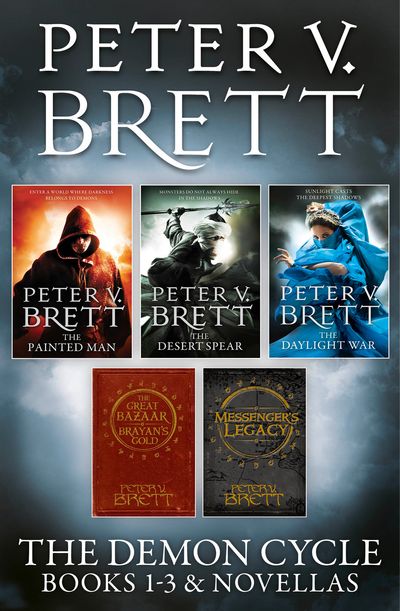 The Demon Cycle Books 1-3 and Novellas
By Peter V. Brett
A collection of the first three books of the impressive debut fantasy series The Demon Cycle, and two novellas set in the same world, all from the imagination of Sunday Times bestselling author Peter V. Brett.
Eleven-year-old Arlen lives with his parents on their small farmstead, half a day's ride from the isolated hamlet of Tibbet's Brook.
As dusk falls upon Arlen's world hungry corelings – demons that cannot be harmed by mortal weapons – materialize from the vapours to feed on the living.
When Arlen's life is shattered by the demon plague, he is forced to see that it is fear, rather than the demons, which truly cripples humanity. Believing that there is more to his world than to live in constant fear, he must risk leaving the safety of his wards to discover a different path.
In the small town of Cutter's Hollow, Leesha's perfect future is destroyed by betrayal and a simple lie. Publicly shamed, she is reduced to gathering herbs and tending an old woman more fearsome than the corelings. Yet in her disgrace, she becomes the guardian of dangerous ancient knowledge.
Orphaned and crippled in a demon attack, young Rojer takes solace in mastering the musical arts of a Jongleur, only to learn that his unique talent gives him unexpected power over the night.
Together, these three young people will offer humanity a last, fleeting chance of survival.
This bundle collects the first three novels of The Demon Cycle, THE PAINTED MAN, THE DESERT SPEAR and THE DAYLIGHT WAR, along with the novellas THE GREAT BAZAAR AND BRAYAN'S GOLD and MESSENGER'S LEGACY.