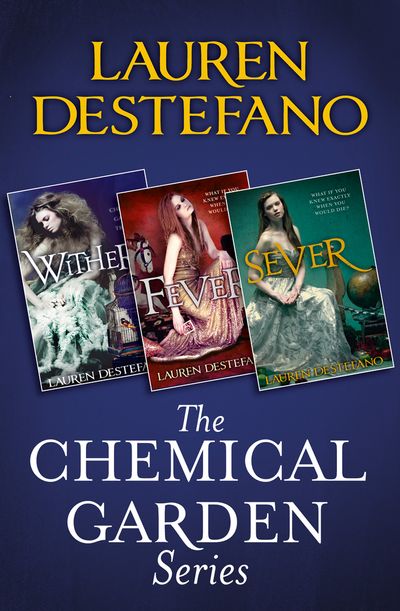 The Chemical Garden Series Books 1-3
By Lauren DeStefano
Lauren DeStefano's complete, breathtaking, dystopian romance series, The Chemical Garden Trilogy.
This bundle includes Wither, Fever, and Sever.
WITHER: What if you knew exactly when you would die?
Thanks to modern science, every human being has become a ticking genetic time bomb – males only live to age twenty-five and females only live to age twenty. In this bleak landscape, young girls are kidnapped and forced into polygamous marriages to keep the population from dying out…
16-year-old Rhine Ellery is kidnapped and sold as a bride to Linden, a rich young man with a dying wife. Even though he is kind to her, Rhine is desperate to escape her gilded cage. With the help of Gabriel, a servant she is growing dangerously attracted to, Rhine attempts to break free, in what little time she has left.
FEVER: Running away brings Rhine and Gabriel right into a trap, in the form of a twisted carnival whose ringmistress keeps watch over a menagerie of girls. Just as Rhine uncovers what plans await her, her fortune turns again. With Gabriel at her side, Rhine travels through an environment as grim as the one she left a year ago – surroundings that mirror her own feelings of fear and hopelessness.
SEVER: Time is running out for Rhine.
With less than three years left until the virus claims her life, Rhine is desperate for answers. Having escaped torment at Vaughn's mansion, she finds respite in the dilapidated home of her husband's uncle, an eccentric inventor who hates Vaughn almost as much as Rhine does.