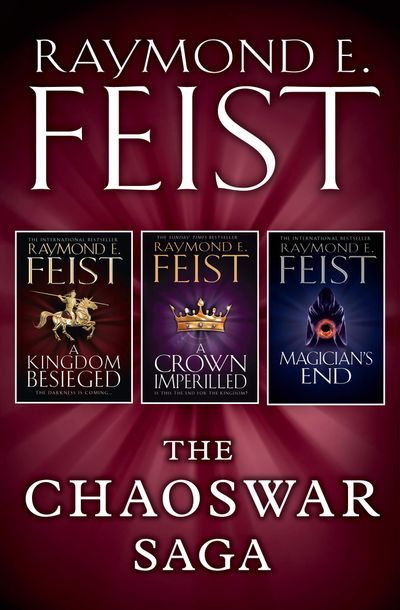 The Chaoswar Saga
By Raymond E. Feist
Return to a world of magic and adventure from bestselling author Raymond E. Feist. This bundle includes the complete Chaoswar Saga.
The bundle includes: A Kingdom Besieged, A Crown Imperilled, Magician's End.
A KINGDOM BESIEGED: The Darkness is coming…
The Kingdom is plagued by rumour and instability. Kingdom spies in Kesh have been disappearing – either murdered, or turned to the enemy side. Information has become scant and unreliable; but one thing appears clear. Dark forces are on the move…
A CROWN IMPERILLED: War rages in Midkemia but behind the chaos there is disquieting evidence of dark forces at work.
Lord Hal of Crydee and his great friend Ty Hawkins, champion swordsman of the Masters' Court, are entrusted with the task of smuggling Princess Stephané and her lady-in-waiting, the lovely but mysterious Lady Gabriella, out of Roldem to a place of greater safety. But is there any safe haven to be found?
MAGICIAN'S END: The dragons are calling…
Civil war is tearing apart the Kingdom of the Isles, for the throne lies empty and rivals are converging. Hal – now Duke of Crydee – must turn his attention to the defence of the ancient realm so that a king can be anointed by the Congress of Lords, rather than by right of might.