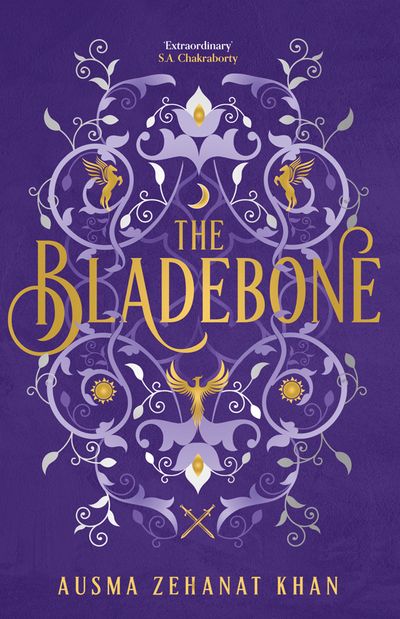 The Khorasan Archives - The Bladebone
(The Khorasan Archives, Book 4)
By Ausma Zehanat Khan
The fourth and final instalment in Ausma Zehanat Khan's powerful epic fantasy quartet: a series that lies somewhere between N. K. Jemisin and George R.R. Martin, in which a powerful band of women must use all the powers at their disposal to defeat a dark and oppressive, patriarchal regime
THE STUNNING CONCLUSION TO AUSMA ZEHANAT KHAN'S POWERFUL NEW SERIES, THE KHORASAN ARCHIVES
THE LAST WORD.
Armed with the powerful sorcery of the Bloodprint and supported by the Talisman, the oppressive, patriarchal One-Eyed Preacher is on the verge of conquering all Ashfall. Women will not be free under his rule.
Yet not all is lost for Sinnia, Arian, and the Citadel of Companions. If these brave warriors can find an ancient magic weapon known as the Bladebone, they can defeat the Preacher and crush his cruel regime.
But none of them yet know the Bladebone's whereabouts, and not all may survive the search to uncover it. Pursued by an enemy aligned with the Preacher, our heroines become separated, each following a different path.
When the secret of the Bladebone is finally revealed, the knowledge will come at a devastating price.
For those who survive, if any, Khorasan will never be the same.
Khan thunders to a conclusion in this epic finale to the Khorasan Archives – The Bladebone delivers a stunning conclusion to the acclaimed feminist and original #ownvoices fantasy quartet.
Praise for The Khorasan Archives: -
'The Bloodprint is somewhere between N.K. Jemisin and George R.R. Martin. You're going to love it'Saladin Ahmed, author of Throne of the Crescent Moon -
'Sweeping its readers up for a fantastical journey across a broken yet beautiful Silk Road, The Bloodprint is extraordinary. The book is wonderfully written; its poetic prose and mix of history, faith, and adventure reminiscent of a post-apocalyptic Odyssey…this time with a pair of women warriors at the helm'S.A. Chakraborty, author of The City of Brass -
'One of the year's finest fantasy debuts'B&N Sci-Fi & Fantasy -