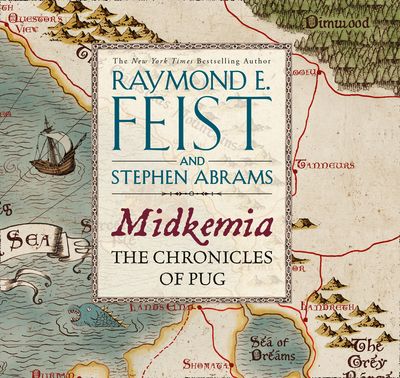 Midkemia: The Chronicles of Pug
By Raymond E. Feist
The world of Raymond Feist is brought to stunning life in this illustrated deluxe compendium, complete with fold-out maps, blueprints of important buildings and houses, character drawings, and first-person narrative text by the master of fantasy fiction.
"In the first year of the reign of King Lyam conDoin, I, Pug of Crydee, magician to the royal court and cousin to the King by adoption, do take quill in hand and set forth this writ, that all may benefit from the knowledge I have gained…" – Pug of Stardock
So begins the narrative account of Feist's best-selling character, Pug of Stardock, for Midkemia Atlas. Part travel log/journal and part atlas, this visual compendium brings with world of Midkemia to vivid, illustrative life, and gives readers a completely new look at the creative genius of Raymond E. Feist.
Designed and illustrated by the same creative team that brought us the Harry Potter books (Film Wizardy and Page to Screen), Midkemia Atlas is divided into five sections and transports readers – via maps, blueprints, floor plans, and journal text – to the outer reaches of the Midkemia world and into its cities.
Starting at the Far Coast, the Pug, the hero of The Chaoswar Trilody, recounts his childhood, before he embarks on a journey that takes him to the Grey Towers, Sorcerer's Isle, and Krondor. Pug also encounters several favorite characters and people along the way – including Jimmy and Locky, the Sauur, and Erik and Roo in Ravernburg.
Beautiful hand-drawn maps illustrate the changes in Midkemia's geography as war ravages the land and physically alters the landscape; dedicated readers and fans can literally trace the changes made by each battle.
Unlike anything else in the Feist oeuvre, this book is totally immersive look into the world of Midkemia, as never experienced before.