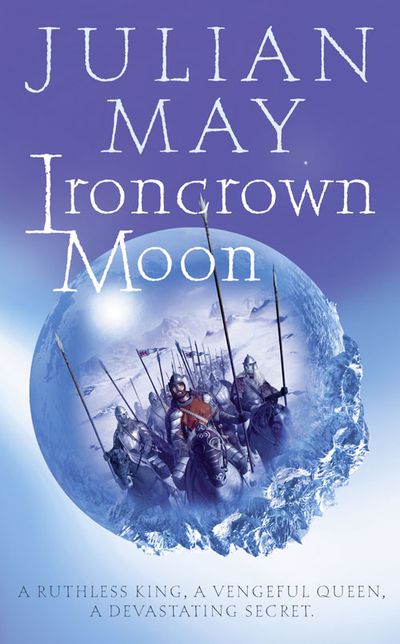 Ironcrown Moon: Part Two of the Boreal Moon Tale
By Julian May
The continuation of a powerful new fantasy adventure filled with dark magic and deadly intrigue, from the worldwide bestselling author of the SAGA OF THE PLIOCENE EXILE.
King Conrig Ironcrown now rules the entire island of High Blenholme. But the peace he achieved after ruthlessly uniting its four quarrelling kingdoms into a Sovereignty is about to be challenged by enemies both mortal and supernatural.
Rumours abound that his vengeful first wife, Maudrayne, believed to have committed suicide when she discovered his infidelity, is in fact still alive and about to reveal a secret that could cost Conrig his throne.
A more tangible threat is posed by the ambitious sorcerer Beynor, and his crony, Conrig's traitorous former alchymist Kilian, who have stolen a trove of currently inactive moonstones capable of drawing tremendous power from the mysterious supernatural Beaconfolk. After initiating a civil war, the pair hope to utilize this power to vanquish Conrig's fatally divided realm and rule it themselves.
The King's unlikely champion is his royal intelligencer, Deveron, a young man secretly possessed of magical talents. But Deveron is torn between his loyalty to the iron-willed king and his own conscience. The resulting clash involves not only human beings, but also the ancient races who inhabited High Blenholme before them – and who now intend to take back their lost homeland.
Praise for Julian May: -
"'A writer of exceptional perception and power" - JEAN AUEL
"'Julian May has irrevocably placed herself among the greats" - ASIMOV'S MAGAZINE
"'A certain crowd-pleaser" - KIRKUS REVIEWS