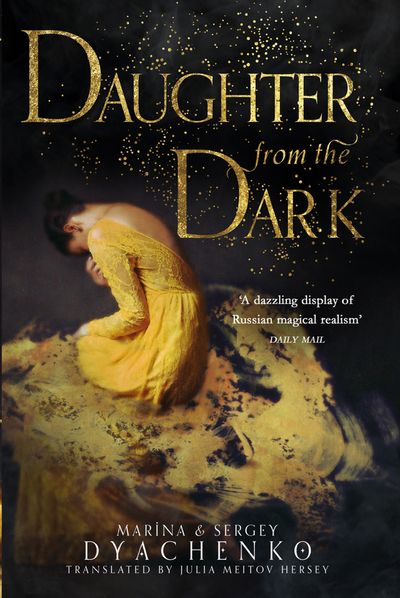 Daughter from the Dark
By Marina Dyachenko and Sergey Dyachenko
In this extraordinary stand-alone novel, the authors and translator of Vita Nostra return with a story about creation, music, and companionship filled with their hallmark elements of subtle magic and fantasy.
Late one night, fate brings together DJ Aspirin and ten-year-old Alyona. After he tries to save her from imminent danger, she ends up at his apartment. But in the morning sinister doubts set in. Who is Alyona? A young con artist? A plant for a nefarious blackmailer? Or perhaps a long-lost daughter Aspirin never knew existed? Whoever this mysterious girl is, she now refuses to leave.
A game of cat-and-mouse has begun.
Claiming that she is a musical prodigy, Alyona insists she must play a complicated violin piece to find her brother. Confused and wary, Aspirin knows one thing: he wants her out of his apartment and his life. Yet every attempt to get rid of her is thwarted by an unusual protector: her plush teddy bear that may just transform into a fearsome monster.
Alyona tells Aspirin that if he would just allow her do her work, she'll leave him – and this world. He can then return to the shallow life he led before her. But as outside forces begin to coalesce, threatening to finally separate them, Aspirin makes a startling discovery about himself and this ethereal, eerie child.
"'Vita Nostra—a cross between Lev Grossman's The Magicians and Elizabeth Kostova's The Historian . . . is the anti-Harry Potter you didn't know you wanted." - — Washington Post on Vita Nostra
"'Vita Nostra has become a powerful influence on my own writing. It's a book that has the potential to become a modern classic of its genre, and I couldn't be more excited to see it get the global audience in English it so richly deserves.'" - Lev Grossman on Vita Nostra