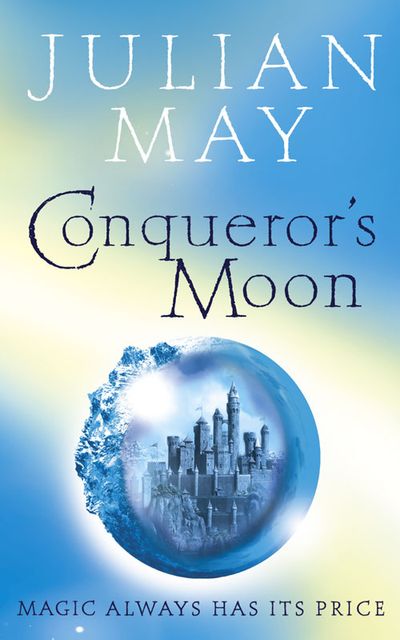 Conqueror's Moon
By Julian May
A powerful fantasy adventure filled with dark magic and deadly intrigue, from the worldwide bestselling author of the Saga of the Pliocene Exile.
Conrig Wincantor, Prince Heritor of Cathra, has a vision: to unite the whole island of High Blenholme under Cathran sovereignty.
He has so far been thwarted in this ambition by his cautious, aging father, King Olmigon, who, though weak with illness, still clings firmly to the reigns of the government.
Now Conrig has hit upon a scheme that will convince the Lords that his plan can suceed. He has formed an alliance with Ullanoth, princess of the remote northern province of Moss and a fearsome sorceress. With her help his army will have the advantage it needs to subdue the only domain refusing to sign his Edict of Sovereignty.
But before Olmigon will give his consent he insists on making a pilgrimage to the Oracle of Emperor Bazekoy, there to ask the one question permitted to a dying monarch, which the Emperor must answer truthfully.
Meanwhile, Ullanoth tends her own schemes. Posessing the talent to call on the unearthly powers of the Beaconfolk, mysterious otherworldy beings who appear as lights in the sky, her power is undeniable. But the Lights are fickle, and their interference in human affairs unpredictable. If Ullanoth calls on them to help Conrig, they are likely to extract an unforeseeable price.