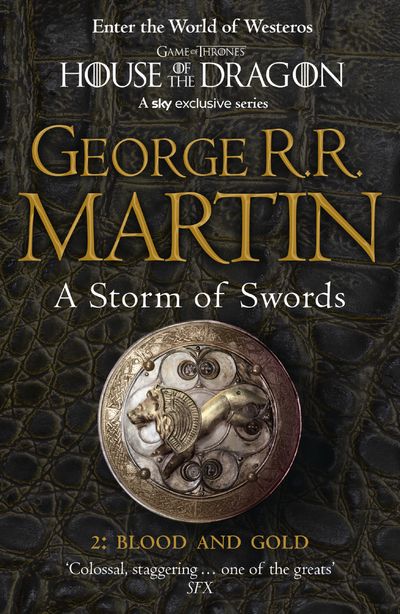 A Song of Ice and Fire - A Storm of Swords: Part 2 Blood and Gold
(A Song of Ice and Fire, Book 3)
By George R.R. Martin
HBO's hit series A GAME OF THRONES is based on George R R Martin's internationally bestselling series A SONG OF ICE AND FIRE, the greatest fantasy epic of the modern age.
A STORM OF SWORDS: BLOOD AND GOLD is the SECOND part of the third volume in the series.
'Colossal, staggering . . . one of the greats' SFX
The Starks are scattered.
Robb Stark may be King in the North, but he must bend to the will of the old tyrant Walder Frey if he is to hold his crown. And while his youngest sister, Arya, has escaped the clutches of the depraved Cersei Lannister and her son, the capricious boy-king Joffrey, Sansa Stark remains their captive.
Meanwhile, across the ocean, Daenerys Stormborn, the last heir of the Dragon King, delivers death to the slave-trading cities of Astapor and Yunkai as she approaches Westeros with vengeance in her heart.
'Colossal, staggering… Martin captures all the intoxicating complexity of the Wars of the Roses or Imperial Rome in his imaginary world … one of the greats of fantasy literature'SFX -
"'This is one of those rare and effortless reads" - ROBIN HOBB
"'George R.R. Martin is one of our very best writers, and this is one of his very best books" - RAYMOND E. FEIST
"'Such a splendid tale. I read my eyes out - I couldn't stop till I'd finished and it was dawn" - ANNE MCCAFFREY
"'George Martin is assuredly a new master craftsman in the guild of heroic fantasy" - KATHARINE KERR
"'Few created worlds are as imaginative and diverse" - JANNY WURTS